Last year, we saw a record-breaking number of new start-ups and all-time high VC funding. US VC-backed companies raised $329.9 billion in 2021, nearly double the previous record of $166.6 billion raised in 2020, signaling the trend of increasing deal sizes.

Here are some other venture capital trends for 2022:
1. Venture capitalists migrating out of Silicon Valley
Location is taking a backseat as more and more venture capitalists move out of Silicon Valley. While 2021 was a landmark year for startup funding, the share of Silicon Valley in the pie has been swiftly declining over the years.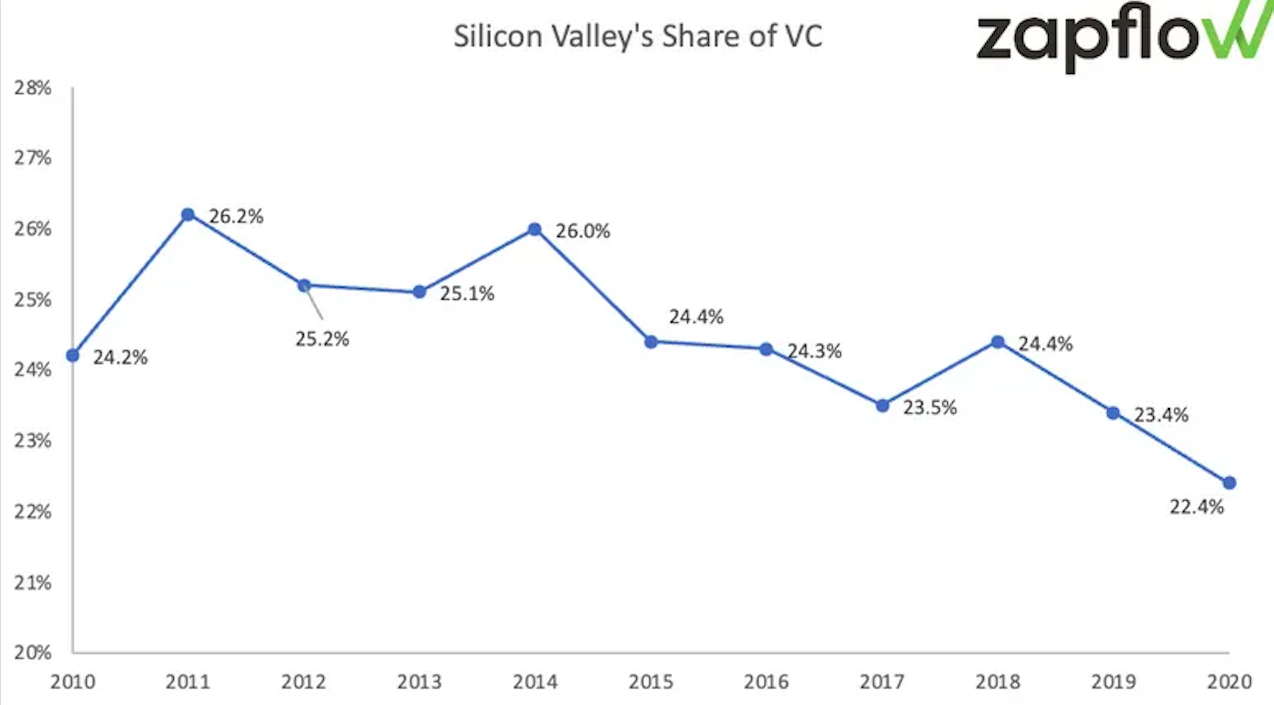 Source: Pitchbook 2021 VC Outlook Report
Companies and investors alike are relocating to locations like Miami and Texas because of the lower cost of living and tax-friendly policies. In 2021, Silicon Valley venture capitalists invested more than $13 billion to fund start-ups in regions outside of the Bay Area, New York, and Boston. That is the first time since 2011 that less than 30% of the Valleys VC funding went to startups in the region.

The year gone by was also the first year when funding rounds in Asia (12,485 deals) surpassed those in every other region. This is a strong indicator that investors are looking towards non-saturated or developing markets, which boast a sizeable middle class with a rapidly rising disposable income.
2. Startups solving the chip shortage
Even as the automobile and consumer electronics industry worldwide continue to grapple with the effects of the ongoing semiconductor shortage, a few entrepreneurs have looked at this as a massive opportunity to rise to fame.


Here are a few exciting industry trends:


Data science - A few startups such as Flexciton are leveraging the power of data science to help large-scale manufacturers such as Seagate improve efficiency. We believe that with the semiconductor chip shortage nowhere near ending, we are likely to see many more companies turn towards the power of data to improve efficiency in their manufacturing facilities, aka fabs.
Start-ups are entering the refurbished goods mar

ket - Many global start-ups such as Back Market, a French refurbished electronics marketplace, are earning a fortune selling refurbished goods to customers who can't get their hand on new products due to reduced supply. Selling refurbished devices can not only solve the chip shortage but also counter e-waste generation and provide a sustainable long-term solution to curb the crisis.



3. More socially responsible investing
COP26 boosted awareness of climate change and environmental sustainability, along with the drive to achieve ambitious net zero emissions targets by mid-century. While climate change and efforts to go green have been an attraction point for VCs for a while, they have also been highly challenging to monetize.

As awareness of the value of sustainability CleanTech continues to grow in 2022, we'll likely witness start-ups and innovators attract more attention and funding.
4. Personalized EdTech
Education has changed dramatically in the last two years, with the rise of virtual classrooms. However, the impact of COVID has led to massively reduced attention spans and rapidly declining mental health. With the lack of face-to-face communication and peer interaction, new trends such as personalized EdTech and AI-enabled adaptive learning have become increasingly popular to help students cope with a hybrid new setting.

Countless schools have made use of personalized EdTech start-ups such as Chalkable, which are building a bridge between parents, students, and educators and tailoring content for unique student needs. AI-enabled adaptive learning is also helping students grasp concepts quicker in a virtual space and making online classrooms more interactive and gripping. Such is the power of eLearning start-ups that the industry market size is set to exceed $1 trillion by 2027.
5. Sustainable start-ups to rule the boost
Many start-ups are realizing that sustainability is the need of the hour and are thinking about climate change as not just a challenge but also an opportunity. Driving decarbonization in their production cycle and reducing emissions along their value chain, start-ups are enabling end-to-end sustainable technology to cater to the demands of the increasingly conscious consumer.

Right from fashion start-ups such as EcoFashion Corp to the food and beverages industry, many companies are investing in green technology and launching innovative business models with a sustainable theme. Start-ups today are exploring various ways to reduce their carbon footprint, right from using renewable energy to hiring green consultants to reduce their environmental impact.
Key takeaways
With 2022 forecasted to have the highest VC funding ever, we are sure you are likely to see a significant rise in deal flow and investor interest.


As such, it is crucial to manage your portfolio companies and investors in a cost-efficient, effective manner. And Zapflow is the perfect companion for you. We are a GDPR-compliant company that has helped numerous investors worldwide improve their efficiency at all stages of growth. If you'd like to learn more, book a demo now!